Links
---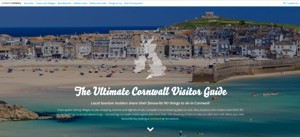 The Ultimate Cornwall Visitor Guide
---
---
Falmouth Bay Seafood Cafe | Truro's top seafood restaurant
We are delighted to announce that we are now a dog friendly restaurant!
Well behaved dogs on leads are welcome every lunchtime from 12-3pm, in the restaurant or garden.
Dogs must be kept on leads, and any mess cleaned up!
Look forward to seeing you and your pooches soon
---
---
The Labyrinth
Blues and Roots Festival
http://www.bluesandroots.co.uk/
8th, 9th and 10th August
Welcome to our 2nd Blues and Roots Festival
Last year, You our Friends, Family, Volunteers, Musicians and Traders helped get our first festival up and running.... Big Thanks to all... not forgetting Rich, Dave and the Crew for supporting our first festival.

---
Cornwall School of Art, Craft and Jewellery
The Cornwall School of Art, Craft and Jewellery was founded by two UK craft and jewellery artists, Julia Rai and Marion Wilson. Their vision is for this centre to bring together the very best teachers in the fields of art, craft and jewellery, in an inspiring creative environment.
---
Hounds First Sighthound Rescue
Hounds First Sighthound Rescue was set up in January 2013 by Rachel Hayball and Danielle Waites. We are a non destruct rescue that operates throughout England, Scotland and Wales. -
---

http://www.scrupleswhippetrescue.co.uk
Scruples Whippet Rescue covers the whole of the United Kingdom founded in April 2010. We are registered with the Charity Commission (Registered Number 1147613).
---
Green Day Out is a friendly online directory of days out in the UK, for all ages and in any weather
---
http://www.queuejumpers.co.uk/
Queue Jumpers is a one stop shop for all things Cornwall!
We strive to get our customers discounted rates from booking a spa day, to Eden Project tickets, to Go Karting.
We want to help holiday visitors to Cornwall, plan their holiday in advance, to save time trawling through tourist leaflets and the internet. Of course it is not just visitors that we want to help, anyone lucky enough to live in the Westcountry already will probably know where they want to go, and local people still deserve the best prices!
---
hol col - The ID Holiday Collar for Dogs
The quick disposable collar that allows you to write your new temporary contact details directly onto the collar, so that if your dog should go missing, the finder can contact you immediately, instead of your dog going to the pound & you receiving a fine. Being a bright collar rather than a tag it is far more noticeable, even from a distance, & having the words "I'm on Holiday" help everyone to know your dog is in unfamiliar surroundings. It is the only collar in the UK known to most UK Dog Wardens.
---
Adrenalin Quarry
http://www.adrenalinquarry.co.uk/
If you're looking for things to do in Cornwall, try the UK's biggest Zip Wire, largest Swing and fresh water Coasteering including the UK's only Blob.
---
Bringing you information on all things Cornish, including details of the beautiful places in Cornwall such as our Top Ten list of places to visit in Cornwall, many images and photos of beautiful Cornwall, a summary of Cornwall Beaches, details about surfing in Cornwall and Cornish Food and drink. For those planning a wedding see our Guide to Weddings in Cornwall.
---
---
Many Tears Animal Rescue (MTAR) is a small rescue based in South Wales but has dogs in foster homes throughout the UK. We take in and rehome primarily ex-breeding dogs who are no longer required; those on "death row" in the pounds and those whose owners are no longer able to keep them. MTAR also has a small cattery which enables us to take a small number of cats.
---
Oliver Dog Boarding - Cornwall
Dog Boarding In Cornwall welcomes you. At Oliver's we are proud to offer dog sitting and dog boarding in a caring loving environment. For dog sitting in Cornwall and dog grooming in Liskeard, Cornwall.
---
Greyhound & Lurcher Welfare Rescue
Greyhound and Lurcher Welfare and Rescue was set up following the closure of the Glastonbury Racetrack. We were concerned that greyhounds and lurchers which were seen by trainers as no longer "useful" might be put to sleep, and we wanted to offer a real alternative to this. We collect the unwanted dogs from the trainers and care for them until new "forever" homes can be found for them. In the beginning, we concentrated on the Wiltshire, Somerset and Dorset areas, as this tends to be the catchment area for the Glastonbury Racetrack dogs. We have now expanded to include the areas around Poole, Bournemouth and Southampton.
---
Dicky Bag - the Ultimate Dog Poop Bags
Walking a dog is one of life's pleasures which is tainted with one huge downside; clearing up and transporting disgusting dog waste to a bin. This is always unpredictable and often far from a bin. With a Dicky Bag™ you're always prepared and have all you need to enjoy your walk again.
---
Angela Stockdale: Dog Aggression Specialist.
http://www.dog-partnership.co.uk/
Answering the call of nature - the muksak site has a
range of items to make life easier and fresher when you are out and
about with your dog. You can also find lots of useful information about environmental issues, working dogs and more.
---
Muksak - no more smelly poo bags when you're out with your
dog.
Answering the call of nature - the muksak site has a
range of items to make life easier and fresher when you are out and
about with your dog. You can also find lots of useful information about environmental issues, working dogs and more.
---
Driving with Dogs
http://www.drivingwithdogs.co.uk/
Driving with Dogs gives dogs and their drivers a wonderful walk, and a dog-welcoming pub or coffee shop, within 5 miles of UK motorway exits.
---
Canine Crusaders
Canine Crusaders was founded in February 2002 to try to improve dog welfare in Cornwall, and help reduce the number of dogs going needlessly into rescue.
It is heartbreaking, and unbelievably frustrating to have so many requests for help and know that we can only tackle a tiny proportion, due to lack of funds, facilities and resources..
---
CoaST - Cornwall Sustainable Tourism Project
Welcome to the CoaST website. We work with everyone (from cake-makers to photographers, campsites to recycling collectors, hotels, beach cafes, designers and beer brewers) to ensure tourism delivers social, economic and environmental benefit for all, as well as a fantastic holiday for all our visitors.
---
Purely Cornish
http://www.purelycornish.co.uk/
Since its launch in April 2006 Purely Cornish has established itself as the place to find an outstanding range of locally produced goodies with already over a hundred different lines from Cornwall..
.
---
Food4myholiday.com
http://www.food4myholiday.com/
Chef-selected quality Cornish produce, plus all the other basic supplies you'll need for your holiday in Cornwall.
Delivered to the door of your holiday accommodation (actually the kitchen and the fridge whenever possible!)
We currently deliver to all locations in Cornwall with postcodes commencing PL.
---
101 Things to Do on a Rainy Day in Cornwall
http://www.101-things-to-do-on-a-rainy-day-in-cornwall.co.uk/
This website provides a guide to wet weather activities in Cornwall. So if you are looking for what do in Cornwall when it rains, then you're in the right place!.
---
Active-8 - The Holiday Activity Company
http://www.activecornwall.co.uk/
Via this activities in Cornwall site you can book and pay online for a range of first class Holiday Activities in Cornwall. We cater for families, singles, couples & groups and for beginners to experts alike. We have found the very best activities and arrange them for you often at the same price as direct booking. Group bookings, Stag and Hen parties welcome. From Coasteering in Cornwall to Canoeing to Horse riding in Cornwall we have something for everyone.
---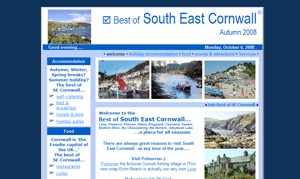 Best of South East Cornwall
http://www.bestofsecornwall.co.uk/
There are always great reasons to visit South East Cornwall - at any time of the year.....
.
---
Cornwall Information